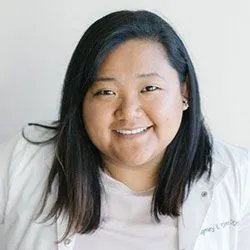 Dr. Dorjee would like to welcome you to our practice with wide open arms! She is very excited to be back in the Arlington area after having grown up in Northern Virginia. Her professional development started very early. She completed both her Bachelors's and Doctorate degree at Virginia Commonwealth University as part of a Guaranteed Admissions program awarded to High School Seniors showing potential for a career in Dentistry. Needless to say, she knew she wanted to be a dentist very early on and feels very blessed to have a career that brings her so much joy.
Following dental school, she continued her training and completed a hospital-based General Practice Residency at Montefiore Medical Center, a very busy, well-reputed hospital system in Bronx, NY. At Montefiore, she gained training in treating dental patients that were more medical compromised patients in addition to furthering her training in implants and oral surgery.
Continuing education is very important to Dr. Dorjee. She regularly takes courses in all aspects of dentistry from restorative to implant surgery to allow her to provide the latest and most effective care for her patients. Dr. Dorjee is an active member of multiple dental organizations such as the American Dental Association, Virginia Dental Association, Northern Virginia Dental Society, Academy of General Dentistry and Virginia Academy of General Dentistry.
Her favorite part of being a dentist is meeting patients from all walks of life and forming relationships with her patients. Her strength lies in having a calm demeanor and putting patients at ease. She understands most dental patients are anxious about their appointments.
"Our team will do everything possible to foster a comfortable, low -stress dental practice."